Park Hill Collection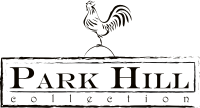 The Park Hill Collection is a gathering of objects selected that bring happy memories of childhood and things we just fell in love with. Many are exclusive antique reproductions to help satisfy our nostalgic desire for the way things used to be and yet timeless for contemporary living. Combining these objects in various ways will create a personal statement all your own. Whether looking for period charm, a style of elegant restraint or just wanting to infuse a spirit of playfulness, you'll find it here.
Standley Feed & Seed is pleased to offer The Park Hill Collection. Visit our Madisonville store to see what new products arrive monthly.
Navigation
Share with Friends
Upcoming Events
Check back for upcoming events.